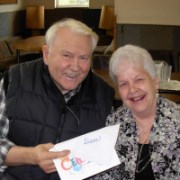 On Sunday May 11, 2014 David Carlton Penz, 79, passed into the presence of his Lord from complications related to leukemia.
Since 1981 Dave lived at Kako Retreat Center, of which he was founder and director, having previously ministered in various interior villages (Cantwell, Shageluk, Grayling, Kaltag, Stony River, and McGrath) from 1962 to 1972, and in Soldotna and Anchorage until 1980.
The family gathered around Dave in these last hours.  Jeanne from CA staying at his bedside through the nights,   Jonathon and Sharon from Bethel, Debbie from WA, Val from Anchorage and Dianne via phone.
Jeanne writes: "As we watched and waited with dad in the past few days in his hospital room, we had a great view of Mount Susitna. The Alaskan sun hangs in the sky for quite a long while, even in May, so that sunset occurs around 10:30. The sun slowly descends and then sinks into the horizon. Last night as I watched it set once again, I thought of dad, and how his life was coming to an end, much like the setting sun."  Dave's life came to end Sunday, the 11th just past noon.  We rejoice that his suffering is over: we had all become increasingly aware of his suffering over the last 24 hours, and seeing him struggling so was especially hard for all of us. We knew it was time to release him into God's hands.
His life is done and we marvel at all that he accomplished in his life. From his youthful commitment to Christ, to dedicating his life to bringing the gospel to the people of Alaska, to doing difficult, ground-breaking pioneer missionary work in multiple villages, to having the vision for and bringing about the Kako Retreat Center, his life has been a continuous arc.  Through its waxing and waning, his focus has always been on bringing glory to God, and bringing people to Jesus.
We are so thankful for the body of Christ.  The many e-mails, the visits at the hospital, the notes, acts of love have all been an encouragement and comfort to us at this time.  I am especially thankful for my sister-in-law Vi Johnson who graciously opened her home to us, providing meals and transportation back and forth from the hospital.
Dave was born in Rochester, Minnesota. In high school he learned to fly, a skill used extensively throughout his life. While serving in the Army at Ft. Richardson (1954-1956), he married Janet Mulholland (b1937, d1986). After attending Moody Bible Institute, they returned to Alaska, serving with Arctic Missions. Dave was highly regarded throughout Alaska for his integrity, love for the people of bush villages, piloting, and practical mechanical and engineering skills. He reveled in creating unique solutions to the many challenges of life in the Alaskan bush. He created and ran Camp Inowak near Stony River for kids in Kuskokwim area. In 1980 he left Arctic Missions to develop the gold mine at Kako into a retreat center specifically to encourage YK residents. He married Vera Kelley in 1988. Together they worked to establish facilities, programs, and staff to turn Kako into a safe place for people to connect and to mature in their relationship with Jesus. Bringing people to Jesus was Dave's passion and joy.
Preceded in death by his parents Carlton and Ruth Penz, brother Howard and his wife Janet. Dave leaves behind his wife, Vera Penz; siblings Lowell Penz, Calvin Penz, and Jan Perkins; children Jeanne Rodkey, Valerie, Dianne, and Jonathan Penz; son-in-law John Rodkey; daughter-in-law Sharon Penz; Jeanne's children Elissa, Krista, Adelle, and Erik Rodkey; step-daughter Deborah Holland and her husband Mark; Debbie's children Amanda Crain, Justin Holland, and KyLeah Holland; and Debbie's grandchildren: Jonah, Luke, Elijah, and KayLynn.
In lieu of flowers, donations may be made to Kako Retreat Center, PO Box 29, Russian Mission, AK 99657.