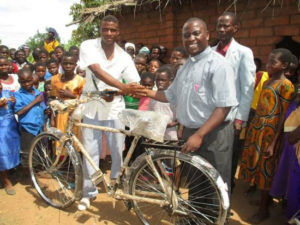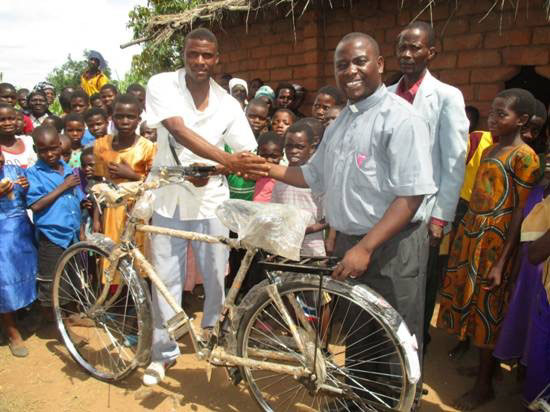 Dear loving friends and our dear brothers and sisters, I read Rev. Herne's recent email and was actually speech less. You all have done so much for us through the years. God continues to work through you in such amazing ways. I have been reading Mission Updates and I know the plan the Lord is doing through you in other places is great as well. How can we thank God for bringing us together to do His bidding? I am speech less.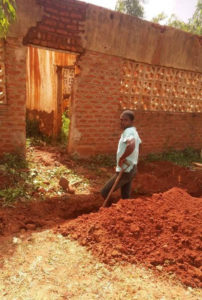 I want to remind you that your prayers and giving are being answered and used every day. Lives are being transformed spiritually, educationally and physically. Your recent financial help has been turned into blessing for children and adults. May God bless you so much. Now we will go and evangelize for the next three months, fully equipped with the swords in our hands to deliver to God's people. They will be so excited to have Bibles in their own language. Praise the Lord for doing this.
The houses for the chickens, pigs and rabbits will be back to normal soon and I will be taking some pictures as the projects goes on. This is so important for the daily needs of the Maoni Orphanage.
We were also able to purchase school materials. We were able to give some books, pens, pencils, scientific calculators to our students. They are very thankful for this timely gift.
Lastly, we were able to buy shoes for the children. What a great joy it has been for us to see their smiles. You have done so much for your family here. The food, fruit, materials, blankets, funds for evangelism outreach and the rebuilding of the Boy's Dormitory, to name a few things, will impact us for years. Lives have been blessed. Souls have and will be saved. God be praised!
The new shoes will bring comfort and needed protection for our children's feet. Thank you so much!
The new school term is starting. The materials are a great blessing for students and teachers.
We are all doing fine and we are just preparing for the outreach to Mula village, we need your prayers as it is an Islamic religion area. We will be going with the Yao Bibles you bought for us. This will help us bring encouragement and light. The last time I went there the village headman accepted Jesus Christ as his Lord and Savior. Praise the Lord!!! Now we want to see what the Lord has
done in this village as we go to check on the church and to teach and encourage believers there. This trip will begin a three month tour. Please pray for a harvest of souls. Pray for new churches to be planted.
We humbly request that you pray with us…..Enock and Clara Dimba
This year we have 27 pupils under Maoni who are writing Government exams including my young brother and last born in our family. They will start writing exams on 17th May 2017 and finish on 19th May 2017. They need your prayers for good recall and grace.
Please pray for them by name: 1. Tanaka Mbosanje 2. Blessings Dickson 3. Vailet Lloyd 4. Chimwemwe M'mango 5. Horold Kansanje 6. Desmond Ngunda 7. Cecilia lipambaliya 8. Yakobo Dimba (my brother) 9. Daudi Bandula 10. Linda Kapale 11. Emily Mamwera 12. Goodson Munsewu 13. Diana George 14. Manuel Matthias 15. Bridget Meya 16. Jenifa Patrick 17. Tifelanji Moses 18. Chikondi Meya 19. Ganizani Malitino 20. Wilson Disi 21. Josephy Andrea 22. Alifi Master 23. Pilirani Luzire 24. Samuel Lucius 25. Bosco Maduka 26. Blessings John 27. Grace Macheso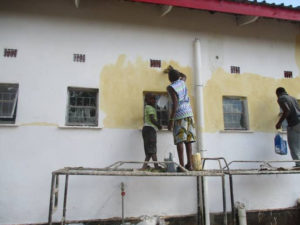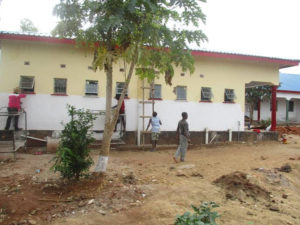 When they pass they will be selected to go to different secondary schools in the country. This is so important. We not only desire our children to know Jesus and live obedient lives, but we also want them to go to schools that will give them opportunity to succeed in different occupations. God is making this possible through His people. We are grateful.
Alleluia! The Boy's Dorm is getting the final coat of paint. We are truly amazed with God's provision. Tragedy has turned into triumph. The Lord's name is going forth in this community. There is nothing too hard for the Lord! Isn't that right?!
Please pray for the following:
Every winter we try to provide new blankets for the children at Maoni and those in the villages under our care. This year we need 250 Blankets for all children to have warm blankets this winter.
Keep on praying for irrigation project at Maoni orphanage farm.
We need to complete 5 more boreholes with pumps, so that 5 villages can have clean and healthy water. This is a big project but we know God hears the cries of His people.
Please keep us in daily prayer as we travel for the next three months. Some areas are hostile toward the Gospel. We have a strong desire to be faithful and bold. We are asking the Lord for protection.
Please pray for the Land Rover and the team occupying the seats. We need God's provision for our health and travel needs.
Pray for my father the Bishop overseeing the ministry. God is good!