Dear Heritage AFlame Family,
Greetings to you in the name of our Lord Jesus Christ.   I am happy to send you this 2016 Evangelism report on the field missions of Christian Resource ministries.
I am so thankful for you and your tireless prayers and support to this gospel outreach ministry whereby we do go village to village, visiting those remote areas to reach to  unreached people with the Good News of Jesus Christ.
From January to March each year we don't travel much because of the bad roads.  The rainy season is still in full swing and most of the dust roads becomes so soft that travel is almost impossible. But we praise God that we can visit some churches that are on the road side. They are always happy to see us.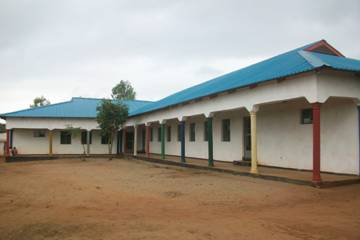 "and Moses said unto the people, fear not stand still, and see the salvation of the LORD which he will shew to you today; for the Egyptians whom ye have seen today, ye shall see them again no more for ever. The Lord shall fight for you and you shall hold your peace" Exodus 14 vs. 13 to 14.
We have been comforted by those words as the storm and tornado attack on the Maoni Orphanage was something we have never seen since we started this ministry.  Your immediate prayer support, words of encouragement and financial support helped us realize the above verse.
Before the storm hit the Boys Dormitory looked like this.   Thunderstorms, lightening and tornado speed wind ripped off the roof and damaged the block walls as you can see the photos below:-
Thank you for standing with us.  We are excited that the rebuilding process is ongoing.  We are in awe of the Lord's provision through you all.  Thank you from all of the children, the staff and evangelists.  This is the Lord's doing!  It is wonderful in our eyes!
The entire area around Maoni is seeing the mighty hand of God at work.  Alleluia!
Field Car.
For years we have sharing the Good News with our Old Nissan truck.  When you were here the first time you experienced the breakdowns and crowded seating.  We surely needed your prayers and support to keep that vehicle running.  What a blessing when you all sent funds to purchase a most needed car Land Rover 10 seater and 4X4 (four wheel drive).  We have been able to travel to very remote areas with the Gospel.  We have also been able to pick up supplies for the orphanage and churches we are caring for.
With this Land Rover  every team member can be inside and seated very comfortably. We are no longer breaking road laws and paying fines because we were over our seating capacity or hauling too much equipment.  That is a great relief and saves us much  in travel time and money outlay.
Thank you for I know without God stirring your hearts to pray for us here and to send us financial help we could not experience the joy of seeing so many things accomplished and so many people come to Christ.
Jesus film
We had the problems of some loud speakers being broken, But through you all the Lord enabled us to have two new pairs to replace the broken ones. The projector also had a problem and it was replaced by one you sent us from your own church.  Now the pictures of the Jesus Film when shown in remote areas are very clear with good and clear sound also.  We went to many places.  The devil did all he could to discourage us, but the Lord with us.  Thank you for standing by our side.  You have great reward in heaven for being faithful.
This Ministry is very helpful and important as we travel to each bush village and show the spiritual music and Jesus Movie with the loud speakers blaring. The sound brings people from far and near to the place  where the film is being shown. Hundreds of people have received Jesus Christ as their Lord and savior, others been encouraged and others been delivered from sickness and witchcraft through this ministry.  Praise God from whom all blessings flow.
Eye Glasses
Oh how the Lord has blessed with the glasses you have sent! Thank you very much for this ministry of eye sight glasses. Many people, especially church leaders are able to see now and read their Bibles.  Some of the glasses you sent were brand new and some used.  All have been a great blessing to those receiving them.
Please continue sending them by post to us.
Bibles and Tracts
With you assistance we were able to buy Bibles and materials from the Malawi Bible Society.  It is so far and expensive for people to travel to cities to purchase gospel materials. We are grateful for your giving to help us purchase and distribute these things to many.  We pray the Lord will enable you to do it again in 2017.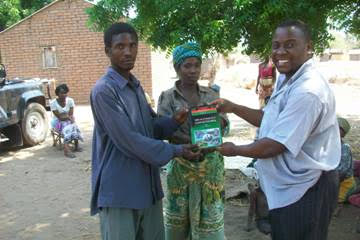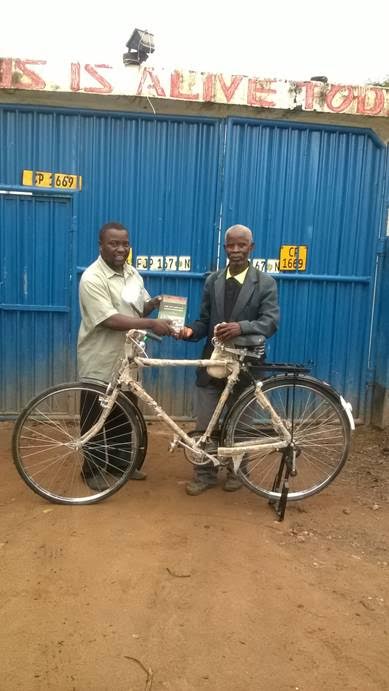 We thank you for the two motorcycles purchased for the main work here.  But another blessing was presenting a new bicycle to senior Pastor Maliza. For many years he has been walking and overseeing over six churches and he was just walking to those churches straight. Often his energy was drained. He has needed a bicycle to enable him to visit these churches and help them grow into mature bodies of believers.
See the picture here of Pastor Maliza with his new Bicycle and new Chichewa Bible We are praying for 69 more bicycles this coming year.
We are looking forward to work hard and reach more areas for unreached people. We are in total appreciation for what the Lord has accomplished as we team up to advance His Kingdom.  Nothing is too hard for the Lord!
Your Brother in the great commission of "GO YE"
Enock.